ARLINGTON M. HART, Farmington, Ohio, eighth son of Joseph Chauncey Hart, of Avon, Conn., and Farmington, Ohio, and his wife, Rosanna (Goff), of West Springfield, Mass., born June 15th, 1849, at Farmington, Trumbull County, Ohio. He was an assistant clerk of the county in 1873, and resided at Warren, Ohio.
1368. Farmington, Conn.
ELLEN MARIA HART, eldest daughter of Gideon Wareham Hart, of Avon, and his second wife, Mary S. (Parsells), born March 26th, 1846, at Avon, Conn., and was educated at Miss Porterís school in Farmington; married March 24th, 1870, Chauncey, youngest son of Samuel Deming, of Farmington, and his wife, Catharino N. (Lewis), born December 16th, 1838, at Farmington. His avocation is farming, and he inherits and resides on the old home of his father, opposite the Congregational Church, Farmington, Conn. They have one child, Samuel Hart, born January 29th, 1872.
NOAH HUMPHREY HART, Chicago, son of Joseph, of Avon, Conn., and his wife, Tryphena (Rice), born January 14th, 1831, at Avon; married December 7th, 1851, Emeline Butler, of Burlington. He is a brass founder by trade and occupation, and resides in Chicago. She died
[ Noah Hart was killed during the Chicago fire of 1871. He was removing tools from his brass shop when a plate glass broke. He was cut, losing so much blood that he died 3 month later. This was told by Oscar Hart who with his brother Rostene went to Cherokee Iowa by cover wagon. Oscar had 3 children and Rostene had 8 children. Thanks to William J. Hart, grandson of Rostene, for this information. ]
THEIR CHILDREN, BEING THE NINTH GENERATION.
1612. Oscar, born August 19th, 1852, at Avon, Conn.
Jennette, born ; died , aged 3 months.
1613. [Rostene Butler], born [1856], at Burlington, Conn.
1372. East Berlin, Conn.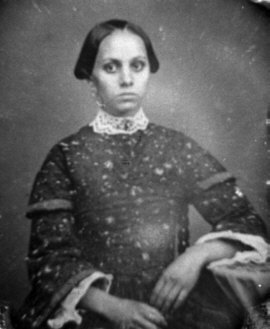 LUCY JANE HART, East Berlin, Conn., eldest daughter of Joseph Hart, of Avon, and his wife, Tryphena (Rice), born February 3d, 1833, at Avon; married June 6th, 1852, Ira A. Porter, son of David, of Unionville. He is an iron founder by trade and occupation, and was living at East Berlin, Conn., in 1872. He was born March 18th, 1828, and his motherís maiden name was Olive Hadsell. Their children are ó Mary Elizabeth, born December 25th, 1854 at Southington, [ married April 21st, 1879, Arthur L. Burnham, died December 12th, 1919 ]; Jane Maria, born August 17th, 1856, at Southington, [ married Edwin R. Mitchell, died January 27, 1940 ]; Lucy Emeline, born