Hart Family Page
Hart CD
Andrews' Book
Hart History
---
Article I
Article II
Article III
Deacon Stephen Hart
Historical Issues #1
by David L. Hart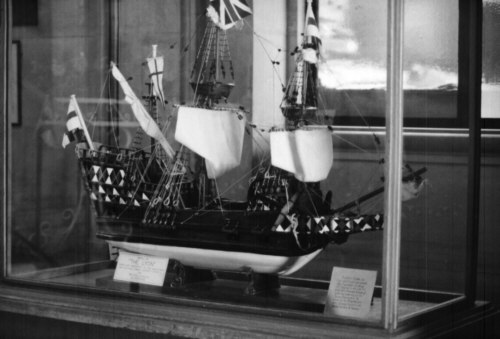 Model of the ship, Lyon, located in the lobby of City Hall, Braintree, UK. The Braintree Company, with Stephen Hart
and family, sailed to New England on her in 1632.
"How can I ever carry this work on?" I mused as I lugged the two boxes of Hart family history files down to the basement. Hildred J. Hart, my late uncle, was the family historian for our Hart line up until his death on September 13, 1989. He accomplished a great deal in that capacity, having crowned his research with the publishing of a book, Genealogical History of Lovira Hart, Sr., in 1979. In the last few years of his life, he encouraged me to assume the role he would leave behind. I had always had an interest in family history and so I received his precious papers and files and tried to decide where to start in continuing the work.
I had considerable help in assuming my role. My parents, Raymond and Martha Hart of Vassar, Michigan, are family historians in their own right. Through correspondence with Kenneth Hart of Cambria, California, they learned about the papers of the late Albert Bushnell Hart, Professor of History at Harvard.
The information contained in these files inspired me, my wife, Natalie, and my then teenage daughters, Karen and Tanya, to make a pilgrimage to New England in the summer of 1989. There we visited the sites where Deacon Stephen Hart lived years ago. We were excited to view his old mill at Farmington, to walk by the spot on the Harvard campus where his Cambridge dwelling once stood, and to try to guess which major structure or highway covered where his Hartford houses had been located.
Through the Farmington Historical Society we came in contact with the late Wayne Hart of New England Historical and Genealogical Society connections. His generosity in sharing information obtained for him by a wonderful genealogist in Ipswich, England, Ms. Sue Rodwell, gave me new vistas to explore. I wrote to Sue, engaging her to do more digging, and later met her in Ipswich. Her performance in finding new information has been amazing due to her access to the various records and her great detective skills.
The information that A. B. Hart and Ms. Rodwell have discovered is extremely interesting, but because it represents only a few pieces of a great puzzle, it leaves some real mysteries that I'd like to discuss in a series of articles for Hart Historical Notes. In this first one, I will start with the question of the date of arrival of Deacon Stephen and his family in Massachusetts. This article will also include information on the ship Lyon on which it is assumed he came.
In subsequent issues, I will discuss what we have learned from English records about Stephen Hart's lineage. I wish to give recognition to Louis Hart of Bristol, CT for sharing his notes and work with the editors, who in turn passed them on to me for reference.
DEACON STEPHEN AND THE LYON
When Did He Arrive in America?
This question arises because I have encountered two different dates on which historians claim Deacon Stephen Hart and his family arrived in New England. They are November 2, 1631, and September 16, 1632, the dates of two landings of the 15th century sailing ship Lyon. All historians agree that Stephen and his family came to America on the Lyon. This is presumably because he was part of Rev. Thomas Hooker's group, and they employed this ship and her captain, Mr. William Pierce, for transport across the Atlantic. Indeed, the Lyon was owned by a group of Puritan investors in London. Rev. Hooker's party, called the Braintree Company, came in at least three installments, the two Lyon voyages mentioned and a transit by the Griffin on September 4, 1633, bringing Rev. Hooker himself. I am unaware of a passenger list verifying that Deacon Stephen arrived on the Lyon on a particular date. Indeed, A. B. Hart's professional genealogist, John Graham, was unable to locate such a list in his searches of English records during the 1920s and 30s. Sue Rodwell also has not uncovered such a record. In this article we will look at other known records and circumstances to gain a better understanding of when Deacon Stephen may have arrived.
Whatever ship Deacon Stephen came on, it is known that there were several ships making more or less regular trips between England and New England after 1620. They brought new settlers and supplies, and carried passengers and trade goods back to England. The Lyon was one of them and it made its first voyage (that I could find recorded) to New England in early 1630. It was employed for that voyage by a group of Puritan settlers headed by Mr. John Winthrop, and was one of 13 sailing ships in the Winthrop fleet that embarked to New England that year. Accompanied by another ship, the Lyon left from Bristol, England, in February, 1630, and landed at Salem, Massachusetts, a few weeks before Winthrop's arrival on June 12 in the Arabella.
There are many interesting stories in the histories written by John Winthrop and William Bradford (the Pilgrim leader), and these books, referenced below, can be found in many libraries. Bradford's book is even being reprinted by Mantle Ministries, San Antonio, Texas. Anyone wanting to know more about travel and living conditions during the time when Deacon Stephen came to America should read these books.
The Lyon made several more trips between England and America which are shown in the following table:
| | | | | | |
| --- | --- | --- | --- | --- | --- |
| Departure From | Departure Date | Arrival At | Arrival Date | Notes | Reference |
| Bristol, England | Feb., 1629/30 | Salem, Mass. | May 1630 | Part of the Winthrop flotilla of 13 ships. 80 passengers. | NEGHR v31, p.309. Winthrop, p. 49 |
| Salem, Mass. | July 7, 1630 | Bristol, England | ? 1630 | Sent by Winthrop to get supplies. | Morgan, p.60 Winthrop, p.51 |
| Bristol, England | Dec. 1, 1630 | Boston, Mass. | Feb. 5, 1630/1 | R. Williams and about 20 persons aboard. | Morgan, p.62 Winthrop, p. 57 |
| Boston, Mass. | April 1, 1631 | London, England | April 29, 1631 | Good winds! | Winthrop, p. 61 |
| London, England | Aug. 23, 1631 | Nantasket, Mass. | Nov. 2, 1631 | Mrs. Winthrop, John Eliot and about 60 passengers. S. Hart aboard? | Banks, p. 94, 95 Winthrop, p. 70 |
| Nantasket, Mass. | Nov. 23,1631 | London, England | Jan. 1631/32 | Returned via the Virginia Colony. | Winthrop, p. 71 |
| London, England | June 22, 1632 | Boston, Mass. | Sep. 16, 1632 | Braintree Co. of 123 passengers (50 children). S. Hart aboard? | Banks, p. 99 Winthrop, p. 92 NEHGR v. 55, p.24 |
| Boston, Mass. | Oct. 27, 1632 | Shipwreck off Chesapeake Bay, Virginia | Nov. 2, 1632 about 5 a.m. | Capt. Pierce safe, cargo & records lost. | Bradford, p. 244 Winthrop, p. 100 |
Table 1. LYON Voyages to New England

A model of the Lyon in a large glass case graces the lobby of the Braintree, England, City Hall. A placard in the case explains: "A galleon of some 180 tons said to have been named after Lyon's Hall, Bocking, left England in 1631 with 350 people from Braintree and Bocking under the leadership of Sir Thomas Barrington and known as the Braintree Company, forming the first link between this town and America." Another sign by the display case reads: "Model of 'The Lyon' made and presented to the Braintree and Bocking Urban District Council by Mr. Hugh Burgess of Braintree."

Winthrop mentions in his journal that the Braintree Company moved from Mount Wollaston (later named Braintree), Massachusetts, to Cambridge in August 1632. Assuming that Stephen was a member of this group, he would have had to arrive on the November 2, 1631 date in order to be with those who moved to Cambridge in August, 1632. In that case, he may have spent the fall building his house in Cambridge on the northeast corner of Holyoke Street and Holyoke Place. A Harvard University building now occupies this site.

Was Deacon Stephen part of the Braintree Company? I don't know of a definitive record to that effect, but Charles Banks in his book The Planters of the Commonwealth 1620-1640 states, "It is thought that the following emigrants came in this ship (the Lyon voyage of November 2, 1631) as they appeared in Cambridge shortly after: ...Stephen Hart." The Cambridge record he may refer to is a General Court record for January 7, 1632/3. Remember, January 7, 1632/3 comes after September 16, 1632 since the new year began on March 25 back then. Dates in the January 1 to March 25 period are often written with a "/" to remind us of this.) The court record assigns each household to maintain a part of the fence around the Cambridge common pasture land. It reads, "Comon pales decided as ffollo - ...Steven Hart, 8 rod." Deacon Stephen and his family had to maintain 132 feet of stake fence which kept cattle in and predators out. This indicates that the Hart family was in Cambridge before January 1632/3, and could have come on either Lyon voyage to be there for this record entry. At least it definitely places Stephen in Cambridge in 1632.

Putting all the facts together, I lean toward the earlier date and conclude along with some good historians that it is probable that Deacon Stephen Hart and his family arrived in America on the Lyon on the November 2, 1631 voyage. Of course, unless we find additional evidence in some long overlooked records, we may never know the real story.

REFERENCES:

Banks, Charles Edward, The Planters of the Commonwealth 1620 1640, (1930).

Morgan, Edmund S., The Puritan Dilemma, The Story of John Winthrop, Little, Brown & Co., Boston, (1958).

The New England Historical and Genealogical Register,

Boston.

Paget, Harold, Bradford's History of the Plymouth Settlement, Mantle Ministries, San Antonio, (1988).

Paige, Lucius R., History of Cambridge, Boston (1877).