Harts in Colonial Farmington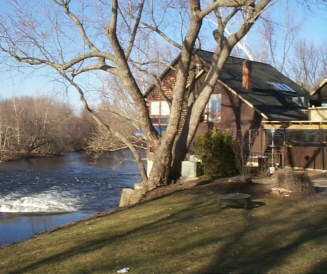 The map below shows where Deacon Stephen Hart lived in Farmington, CT. The red spot on the map is about where Deacon Stephen's house was located when he lived there in the mid 1600's. The roads on this 1893 map only roughly correspond to the roads that existed in Farmington in the 17th century. A lane near Deacon Stephen's house, now called Mill Lane, leads down to the river and the mill that Stephen Hart owned. That mill, shown in the photo above, is now a restaurant and bookstore.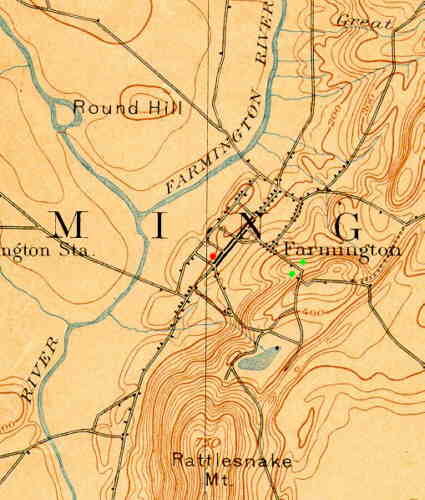 Deacon Stephen's life in Farmington is recorded in many entries in the Farmington town and church records. When Deacon Stephen died in 1682/3, the Hart homestead had already been divided between Dea. Stephen's three sons. At the time of the will, however, the eldest son, John, had already died in a house fire (in 1666), well before Dea. Stephen's death. He had the largest house lot in town (15 acres) and a number of other fairly large pieces of pasture land and wood land. Dea. Stephen's will lists all three sons to share his Farmington farm land, while Andrews' book only lists John and Thomas as actually receiving parts of the house lot.
Deacon John Hart, Deacon Stephen's great-grandson, lived on this same Hart homestead site, before he moved to Kensington. Deacon John was the Farmington Town Clerk in the 1740's. Mabel Hurlburt's book, "Town Clerks of Farmington," gives a glimpse of Deacon John and life in Farmington in the mid 18th century.
Colonial Farmington
Seventeenth century Farmington included about 225 square miles. Farmington was subsequently divided into nine parishes and later, eight towns. The following towns were all completely contained in colonial Farmington. A few other neighboring towns also include some land that was part of colonial Framington, including Windsor, Simsbury, Hartford, and Waterbury. The number of Harts column provides the number of Harts that Andrews lists who lived in that town. (Click on the map above to see the whole map in full size.)
Town
Name
Town
Incorp.
Parish
Name
Parish
Incorp.
Original
Place Name
Number
of Harts

Farmington

1645

1st Society

1645

Tunxis Sepus

84

Berlin

1785

Kensington
2nd Society

1705

Great Swamp

29

Southington

1779

South Society
Southington
3rd Society

1724

Panthorn

82

Bristol

1785

New Cambridge
4th Society

1744

Poland
West Woods

45

Avon

1830

Northington
5th Society

1750

Nod

88

New Britain

1850

New Britain
6th Society

1754

Part of
Great Swamp

139

--------

------

Worthington
7th Society

1772

Part of
Great Swamp

1

Burlington

1806

West Britain
8th Society

1774

West Woods

19

Plainville

1869

Plainville

1840

Great Plain

9