EDWARD W. HART, Coventry, Summit County, Ohio, youngest child of Rufus Hart, of the same place, and his wife, Esther (Coster), born , 1816, at ; married 1838, Rachel Latta, who died , 1845, aged .

THEIR CHILDREN, BEING THE EIGHTH GENERATION.

299. Harriet, born , 1839.
300. George Washington, born , 1841.
301. Maria Coster, born , 1843.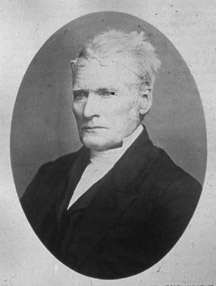 DEACON NATHAN HART, North Cornwall Conn., eldest son of Titus Hart of the same place, and his wife, Esther (Hand), born June 12th, 1776, at North Cornwall; married February 8th, 1804, Sylvia, daughter of Hezekiah Clark, and his wife, Sylvia (Hill), born April 8th, 1785. She died December 4th, 1839, of paralysis. He succeeded his father as deacon. "Their twelve children all became hopefully pious, and united with the church before they had completed their twentieth year, the principal cause of which instru- mentality the father ascribes to a pious, judicious, and unremitted maternal influence." His son, Titus, writes of him as follows, dated February, 1872:
"Deacon Nathan Hart left behind him a rich and precious legacy of prayer, both for the church of which he was for many years a deacon, as well as for his numerous family, all of whom know in some measure how to prize so glorious a boon from so good a parent."
THEIR CHILDREN, BEING THE EIGHTH GENERATION.
302. John Clark, born December 10th, 1804; married June 11th, 1834, Emily Irene Burnham.
303. Titus Leavitt, born April 26th, 1806; married May 1st, 1833, Harriet S. Corbin, of West Hartford.
304. Abigail Emelia, born October 11th, 1808; married April 12th,1837, Peter Nodine, of Washington.
305. Hezekiah Milton, born August 21st, 1810; married September 10th, 1836, Eunice Judson.
306. Solomon, born September 17th, 1812; married July 9th, 1840, Caroline Reynolds.
307. Esther Maria, horn January 21st, 1815; married March 13th, 1844, Shelden Whittlesey, New Preston.
308. Sylvia Ann, born October 3d, 1816; married October 4th, 1855, Shelden Whittlesey.
309. Mary Eliza, born March 31st, 1818; married August 15th, 1852, Anson B. Nodine, Virginia.
310. Clarissa, born December 24th, 1819; married September 11th, 1839, Robert C. Nodine, Ohio.